About a year ago, almost to the day, I attended a Yin Yoga and Meditation training with Yoga Medicine in Peru. I've wanted to visit Peru for quite some time, and the combination of yoga training was definitely the incentive I needed to book the trip. As with most of my longer international trips, Justin usually travels with me before or after so that we can explore and enjoy together. For Peru, we decided to spend the week before the training took place exploring: Lima, Cusco, and the Sacred Valley, and to see Machu Picchu of course!
We were most looking forward to good food, a slower pace of life, and seeing one of the world wonders. Our trip began with a series of comedic errors. We planned one night in Lima, as it's the main international airport in Peru, we chose to stay in an Airbnb in the borough of Miraflores. We really love to enjoy a simple breakfast and lunch with local ingredients from the market, using the kitchen to prepare meals, then we splurge on dinners. Leading up to our trip, we had gathered a lengthy list of recommendations for dinner while we were in Lima, but most importantly was to find a cevicheria.
As luck would turn out, all of our top choices weren't open on Thursday evenings. Learn from our lessons, be sure to confirm restaurant hours before your visit! Go figure, right? After striking out on three locations, we learned that Thursdays tend to be really quiet. Make sure if you have big dinner plans they land on a Friday or Saturday. Fumbled plans aside, we ended up at this fabulous restaurant called Panchita. After our long travel day, a wonderful meal was quite welcoming.
We opted to sit at the bar, which is one of my favorite places to sit. You're usually offered a really great view of the restaurant, and I love watching the mixologists do their thing during busy times of meals. It's a fascinating way to get to know a culture and restaurant, it feels like seeing a little bit behind the scenes, in my opinion.
Every single thing that we tried on the menu was beyond our wildest dreams. In preparation for our trip, we found a local Peruvian restaurant here in San Francisco, Limon Rotisserie. It was amazing don't get me wrong, but, naturally, Panchita put that one to shame.
After a very for delicious meal and supremely fresh passionfruit Pisco Sour's, we decided to wander around Miraflores to take in the evening sites before crashing after a long travel day.
The next day, I put my high school Spanish to the real test at the airport, we finally got on our hour-and-a-half long flight to Cusco. Just as we began our descent, there was an announcement over the in-flight intercom alerting us of our inability to land in Cusco as planned. We were stuck circling the Cusco airport, over and over. Turns out, a storm was coming in, and the winds were too high, which meant that our plane couldn't safely land. Much to our dismay, our aircraft returned to Lima for the night--all flights out were canceled for the rest of the day! To say it was a crazy evening trying to get a hotel secured and a flight out the next day would be an understatement. I will leave you with the below picture. I think it speaks clearly to the situation.
Eventually, things worked out, and we found a local hotel near the airport. We did our best to make the most of the situation, adding to our adventure. Thankfully, our next flight out in the morning made a successful landing in Cusco. We were greeted by a lovely driver, who brought us to Urubamba in the Sacred Valley, with a few splendid stops along the way to enjoy the beauty of the countryside. We had another Airbnb booked that was a casita on somebody's property to really enjoy the Sacred Valley.
We opted to stay in the Sacred Valley instead of Cusco for a couple of nights so that our bodies would be able to adjust to the altitude. Because Cusco sits at 11,000 feet elevation some people have a lot of trouble adjusting to the high-altitude, we were afraid that that would be the case for us since we live basically at sea level, so we decided to drive straight to the Sacred Valley. Driving into the valley was an absolute feast for the eyes. Sweeping views of the mountains and the Sacred Valley floor, the little villages surrounding the windy road in, wild animals in the pastures, moody clouds were hanging over the entire valley. It was about as picturesque as you can imagine.
Due to our travel delays, we spent only one night in the Sacred Valley. To make up for the lost day we did two days worth of touristing, by exploring the entire valley, local village, and having one of the best meals of my life this tiny little place, Restaurante El Huacatay. We would never have found had it not been for our incredible Airbnb host, Rodrigo. I highly recommend it if you find yourself in Urubamba.
We also jam packed our travel day out of the Sacred Valley with even more driving around: stopping at the Pisac Market, we explored the ancient ruins of Ollantaytambo (I was partial to the built in irrigation system!), we petted the adorable llamas, and saw the Condors take flight in a recovery sanctuary. As for the ruins, breathtaking is the only word that I can come up with to describe the sheer ingenuity that was required to build these structures. The most overused word of our visit was, 'wow' because we couldn't think of anything else to capture the magnitude of these structures. The idea that everything was built without any modern technology or engineering was mind-boggling. Little did we know that this was just the beginning of our minds being blown because we had yet to visit Machu Picchu.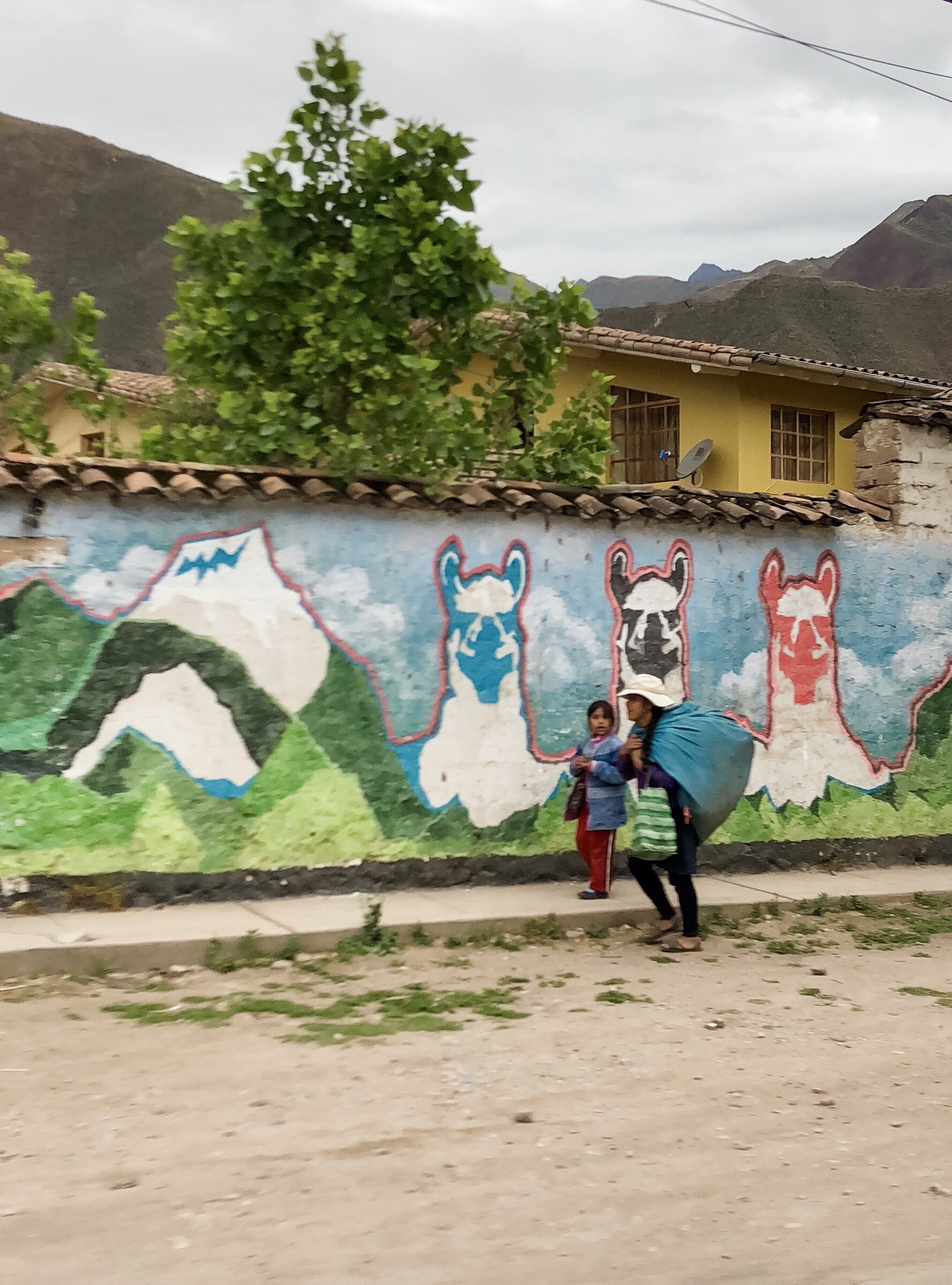 After a full day of exploring the Sacred Valley, we made our way back to Cusco where we stayed in our third, and most relaxing, Airbnb of the trip, situated at the base of the Sacsayhuaman ruins. I found myself just leaning out the window, taking in everything the sweeping views provided.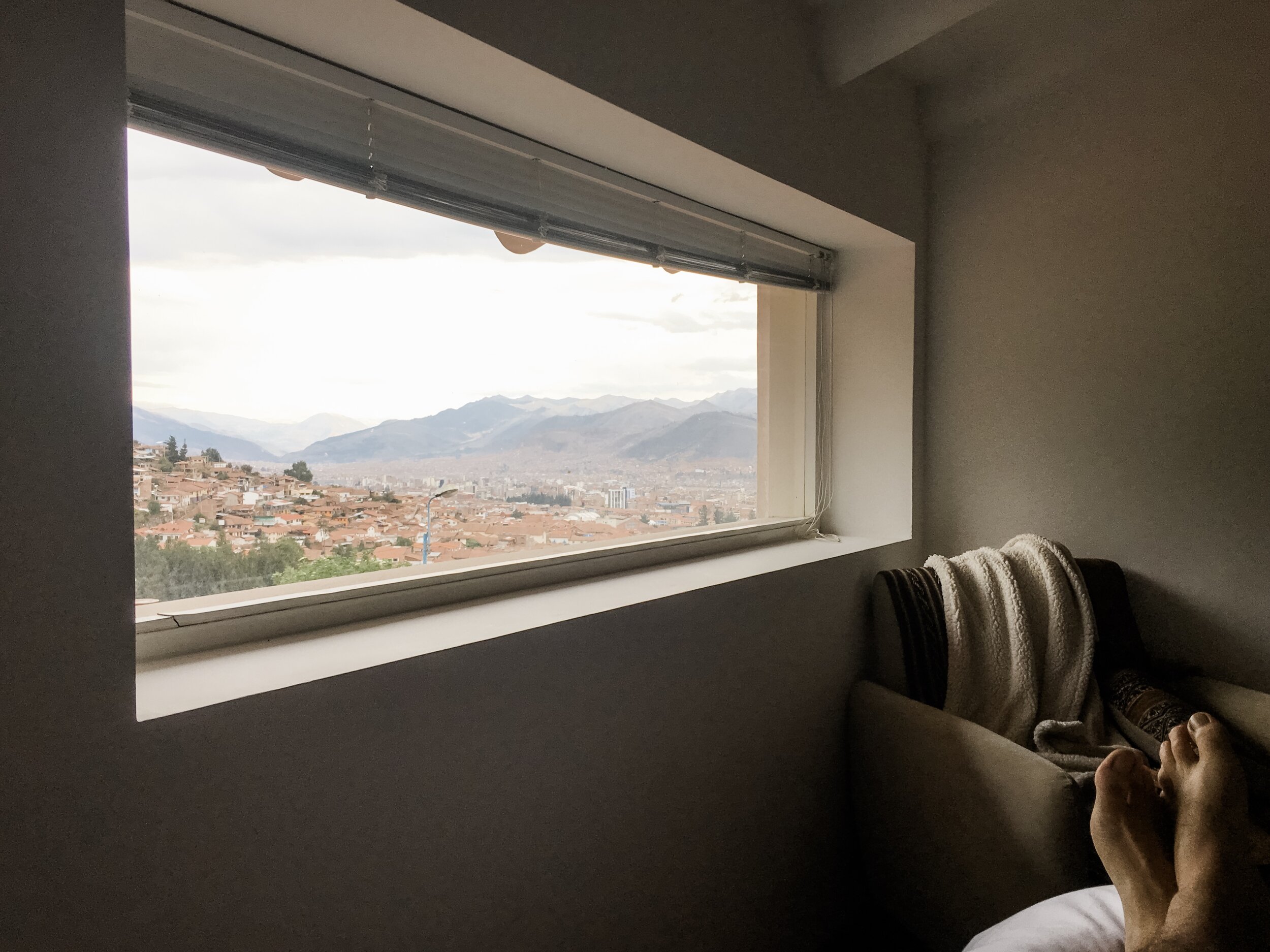 Cusco definitely has a European feel, as we later learned it was previously conquered by the Spanish in the 1500s. If you've ever been to Spain or Europe, the vibe is quite reminiscent. What we loved most about Cusco with how walkable the entire village is. The available activities are endless, as well. You have your choice of museums and restaurants and sites. The tiny little cobblestone roads are so charming, inviting you to wander and get lost only to wind up right back at Plaza Mayor. We walked until we could no longer walk and feasted on some of the best Peruvian meals we've ever had. In fact, we returned to the same restaurant, Cicciolina, three times because the food was so unreal. If you find yourself in Cusco, you must visit!
We split up our time in Cusco between relaxation and adventure. One of those adventure days included a bus and train ride out to Machu Picchu. And here's where I've got a major pro-tip for you. In all of our research, no one we talked to and nothing we read mentioned that to get to Machu Picchu you have to go through the Sacred Valley. So, as you can imagine, when our 3am wake-up call rolled around, and we walked ourselves through town to our designated pick-up location, just how surprised we were that we began the same exact trip that we did just a few days earlier, down into in the Sacred Valley. I wish we would have just gone to visit Machu Picchu from our stay in Urubamba. It was a little bit of back-and-forth for us. My hope is that this blog will help you to have a more seamless experience.
My recommendation is to arrive in Lima (stay a night if you'd like), fly from Lima to Cusco, from Cusco stay in the Sacred Valley, and from the Sacred Valley go visit Machu Picchu, then come back and stay in Cusco. That would be ideal! Nevertheless, we absolutely enjoyed every single part of our trip, it was a perfect balance between adventure, relaxation, good food, good people, and sheer beauty--and maybe a little extra car time we could have lived without. ;)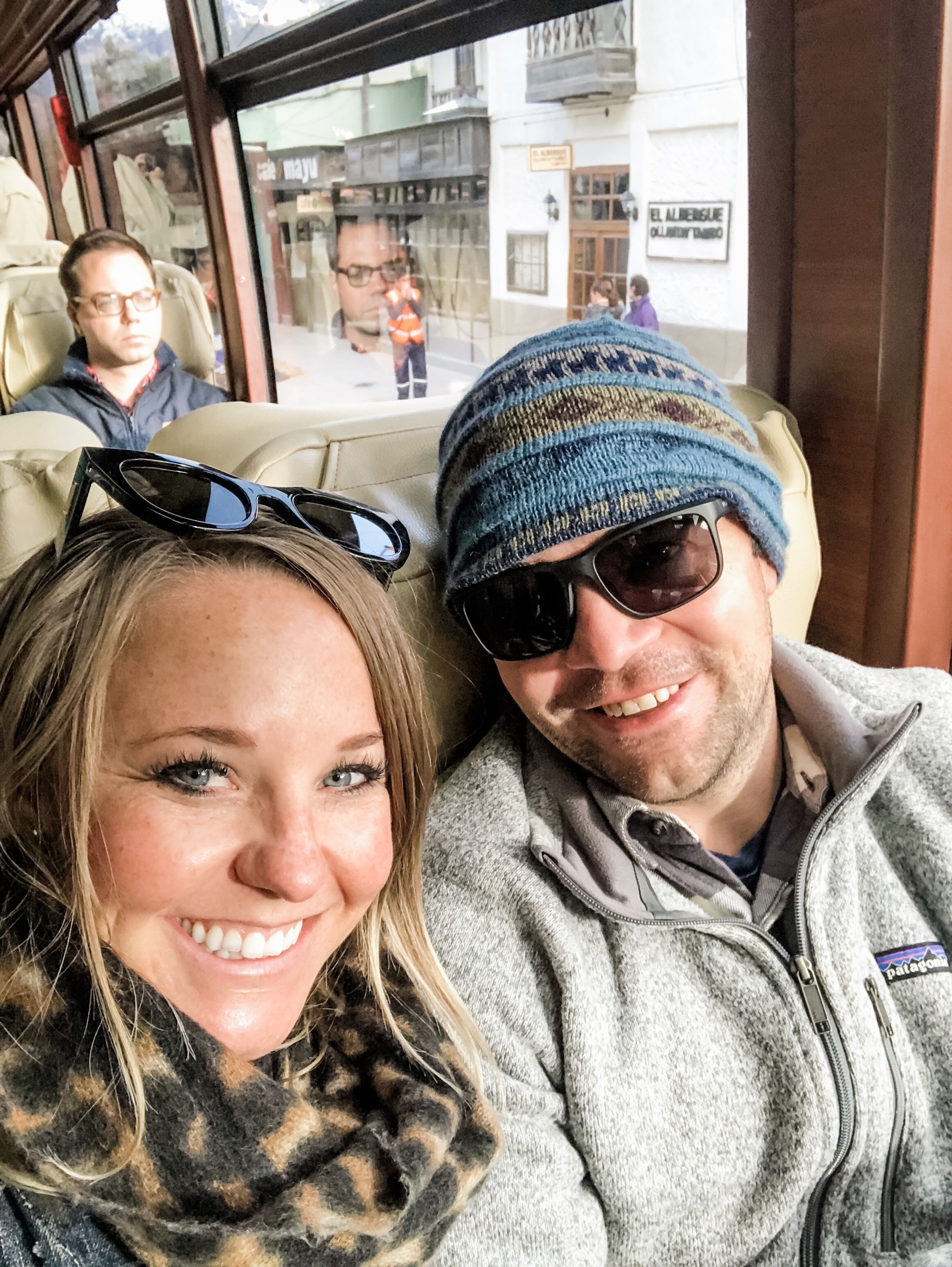 Here's what else they don't tell you, Machu Picchu is HUGE, it's also more tropical and warmer than Cusco. The photos above don't even begin to capture how vast the structure is. Our walking tour took us 3+ hours to wander through everything. Bring good walking shoes, sunscreen, snacks, and plenty of water. I kind of wished we had sprung to hike/climb Huayna Picchu as well—mostly because it was such a huge trek to get there that it would have been nice to spend even more time marveling at the wonders and possibilities of what this ancient world may have held. Don't forget to stamp your passport on the way back to your bus, or else your trip isn't valid. Kidding!
I would return to Peru in a heartbeat. The next time we visit, we'll be sure to hit the other marvels as well: Rainbow Mountain, Lake Titicaca (floating islands), the Desert Oasis, Maras Salt Mines. So many things to do, so little time to do them!
Peru, Pacha Mama, until we meet again.
Forever Wanderlusting,
Paige